CELEBRATE YOUR FEMININITY AND EXPRESS YOUR UNIQUE STYLE
Romantic, Elegant & Inspiring Jewellery Collections

WE ARE CONNOISSEURS OF BEAUTY IN ALL FORMS.
We're committed to ensuring you're delighted with your purchase.
We believe in encouraging women to be the best version of themselves.
We will always respect our differences.

How will you live The Art of You?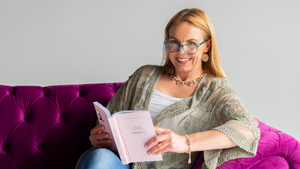 Confessions of an aesthete
Bonjour, I'm Merelle!
Don't be fooled by the pretty things I make,
it's a cover for encouraging women to live their best lives.
I create for aesthetes who love beauty in all its weird and wonderful forms.
I make things of loveliness for radiant, free spirits who love expressing their femininity, values and style through the way they live and dress.

Celebrate your femininity and express your unique style.
READ MORE
★★★★★

The teal Adele earrings I purchased from French Attic are simply stunning. I am delighted with them. Communication was great and the ordering process was simple. Highly recommended.

Elizabeth D.
★★★★★

I recently purchased gifts from French Attic. The quality and presentation of the three pairs of earrings I purchased was outstanding. Reasonably priced, daytime glamour and stunning. Will definitely be a regular customer.

Colleen G.
★★★★★

Absolutely beautiful work. I love my earrings, they are absolutely stunning. Can't wait to buy more.

Helen W.
★★★★★

Looked at this site for a while before I purchased my first pair. Loved the colour combination and how much larger the crystals were. Arrived beautifully gift wrapped with personal touches. I would highly recommend supporting this great Australian boutique business..

Debra H.
★★★★★

Loved these earrings. Wrapped beautifully with a gorgeous card enclosed. All the special touches. Will definitely purchase from French Attic again.

Annette O.
★★★★★

I bought the Celine bracelet from the Anaïs collection. It is absolutely gorgeous! I have had so many compliments. The shopping experience was smooth. Now I am looking forward to buy more jewellery from French Attic!

Veronique C.